Sasken positioned in the Leadership Zone for Automotive category in Zinnov Zones ER&D Services Report for 2018
Sasken rated in the Leadership Zone for Semiconductor vertical for the fourth time in a row
Detroit, USA and Bengaluru, India: February 06, 2019 – Sasken Technologies Ltd., (BSE: 532663, NSE: SASKEN) (formerly Sasken Communication Technologies Ltd.), a leading product engineering and digital transformation solutions provider, today announced that it is positioned in the Established and Niche zone overall in the Zinnov Zones ER&D Services report for 2018.
Zinnov Zones for ER&D services is an annual rating from Zinnov that assesses the prowess of global service providers in this space. In 2018, Zinnov analyzed 38 ER&D service providers for their overall ER&D services capabilities, horizontal ER&D services capabilities, and vertical specific ER&D services capabilities. Sasken is positioned in the Leadership Zone for the Automotive category and, for the fourth time in a row, the company is ranked in the Leadership Zone for the Semiconductor category. It also features in the Execution Zone for Consumer Electronics and Industrial Automation categories.
Hari Haran, President - Global Sales, Marketing, and Business Lines at Sasken, said, "Zinnov ranking us in the leadership zone for the fourth time in the Semiconductor category, reaffirms our three-decade long expertise in this domain. Leveraging this experience, Sasken is delivering cutting-edge solutions in Telematics, In-Car Infotainment, Digital Cluster, V2X, and ADAS to customers in the Automotive domain. Sasken being ranked in the leadership zone for the Automotive category, validates our expanding portfolio of offerings and depth of expertise in this space."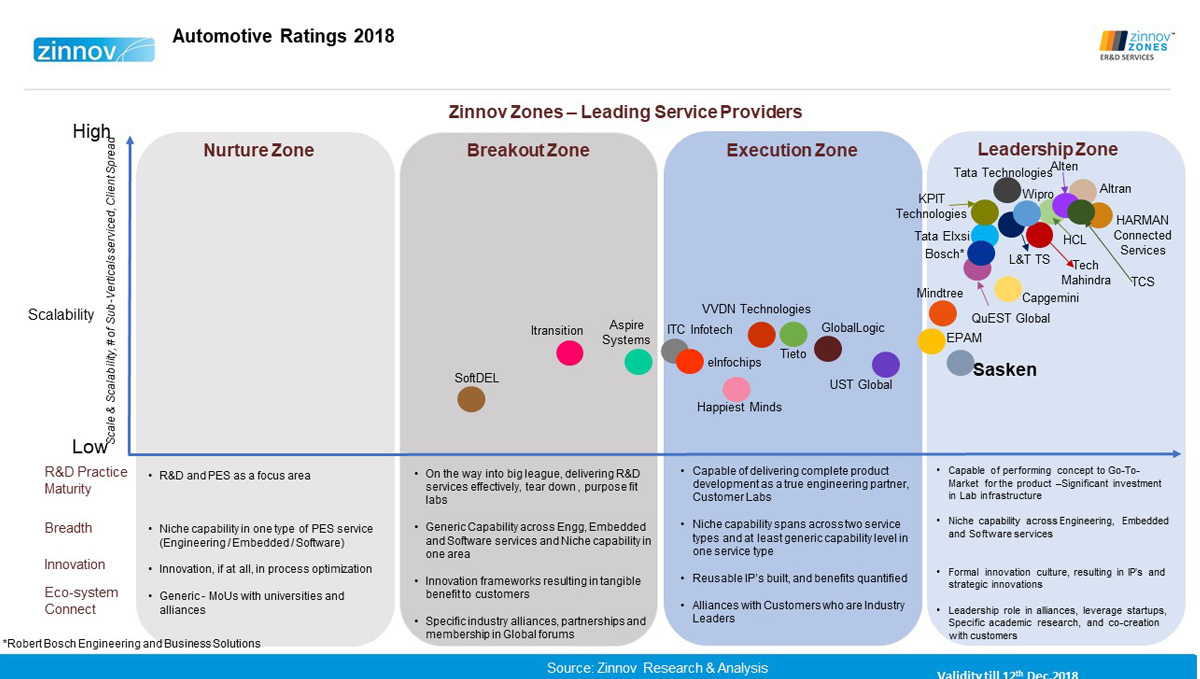 Sidhant Rastogi, Partner and Practice Head, Zinnov, said, "Sasken's capabilities in embedded technologies have historically placed them in the leadership zone for semiconductor and telecom. The company has been able to establish deep relationships with semiconductor vendors and OEMs. Its enhanced focus on establishing infrastructure (labs and CoEs) and building solutions around in-vehicle infotainment, ADAS, and Telematics have helped advance the firm's positioning to the leadership zone for Automotive ER&D services as well for the first time."
Recently, Sasken launched a state-of-the-art Automotive Center of Excellence (CoE) in Detroit, USA. The center's main focus is to develop cutting-edge solutions for the next generation of connected vehicles in areas such as Advanced Driver Assistance System (ADAS), Integrated Cockpit System (ICS), In-car Infotainment, and Telematics.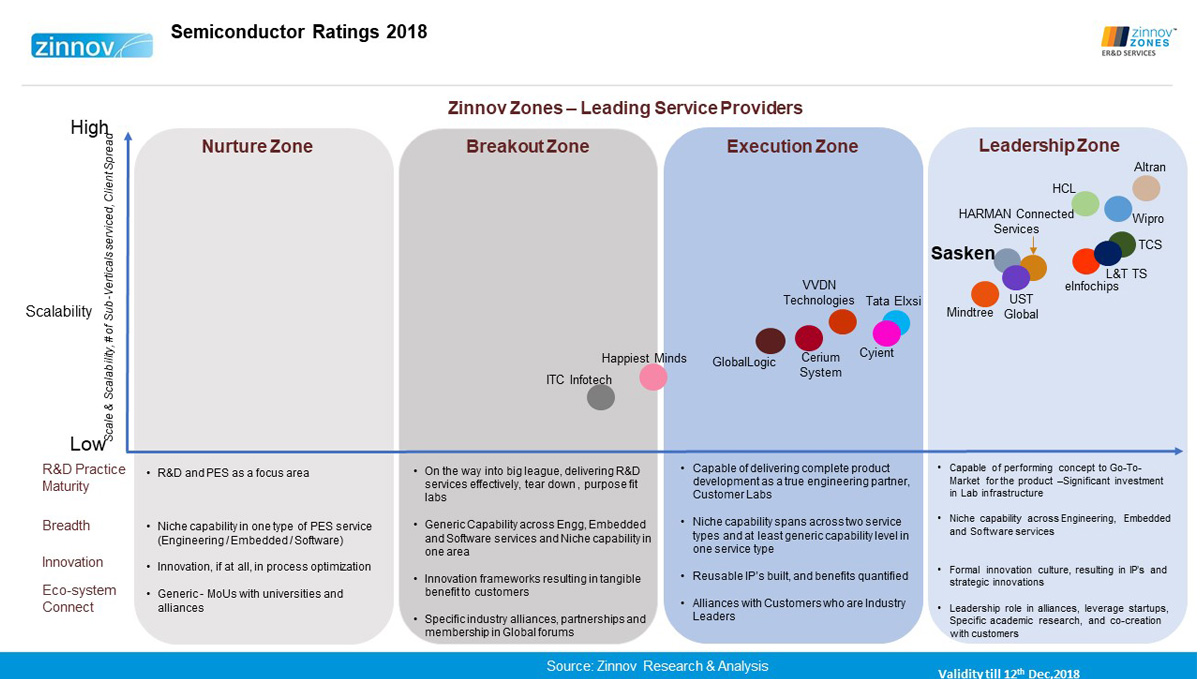 About Sasken:
Sasken is a specialist in Product Engineering and Digital Transformation providing concept-to-market, chip-to-cognition R&D services to global leaders in Semiconductor, Automotive, Industrials, Smart Devices & Wearables, Enterprise Grade Devices, Satcom and Transportation industries. For over 29 years and with multiple patents, Sasken has transformed the businesses of over 100 Fortune 500 companies, powering over a billion devices through its services and IP. For more details, visit www.sasken.com
About Zinnov:
Zinnov was founded in 2002, with presence in Bangalore, Gurgaon, Silicon Valley, and Houston. Since its inception, Zinnov has built in-depth expertise in Product Engineering and Digital Transformation. With a strong foundation in Research and Strategy Consulting they enable their clients to accelerate growth and create efficiencies through innovation, productivity, technology, networked economies and cost savings. They work with clients in the Software, Automotive, Telecom & Networking, Consumer Electronics, Storage, Healthcare, Financial Services & Retail, Semi-conductor verticals in US, Europe, Japan and India. For more details, visit www.zinnov.com. For any further media queries, please contact Nitika Goel at media@zinnov.com
Sasken Media contact:
Jayshri Goswami | Jayshri.Goswami@bm.com | +91 80 4417 4501
Sasken Business Contact:
Calvin Nichols, VP and Head - Automotive Business | calvin.nichols@sasken.com | +1 734 780 0545